Strange Lady Ghost Picture

A story of an american wife went to their mother in laws house:
"This photo was taken on a film camera not a digital camera so apologies for the quality as it is a scan of
the original photograph.
My husband and I planned a dinner at my mother in law's house one week before our wedding, for our
bridal party to get to know each other. The photo here is of my mother in law Anke in the middle and from
the left my bridesmaids Lisa, Amy, Charmaine, Natasha (and me hiding behind the hanging light). The best
man took the shot and we were the only ones in the room at the time. We are in my mother in law's living
room and my groom and his three other groomsmen were all outside at the time.
There is an image of a strange lady coming from the glass in the cabinet to the left of Lisa (enlarged in
second photo). No-one knows who this lady is and she was definitely not invited along for the night. The
cabinet is an antique from France, I am not sure what year but is very very old. There are only pieces of
china and trinkets in this cabinet and no picture frames or photos of any sort. To this day the face remains
a mystery to us all.
You be the judge."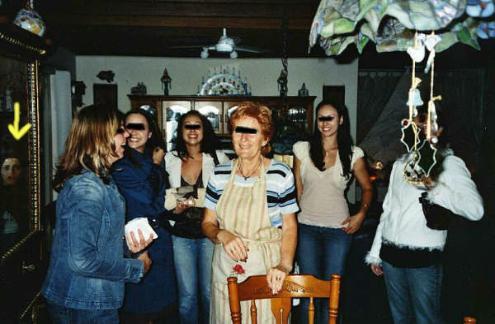 and this is the Image on the Cabinet